If you're like me, then you hate packing with a pure passion. How could I be expected to know what beauty products while I travel? I detest packing and decision making in general, so I end up overpacking and bringing anything and everything I think I'll need with me. Because I basically bring my whole beauty and skincare arsenal with me, I often have zero room left in my suitcase for clothes and shoes. If you can relate, and let's be honest, I'm hoping that a few of you can, you probably need to switch over from bringing full-size products with you. Nowadays, there are so many of our fave mini beauty products that are perfect for travel.
Here are 7 mini beauty products to pack in your travel bag!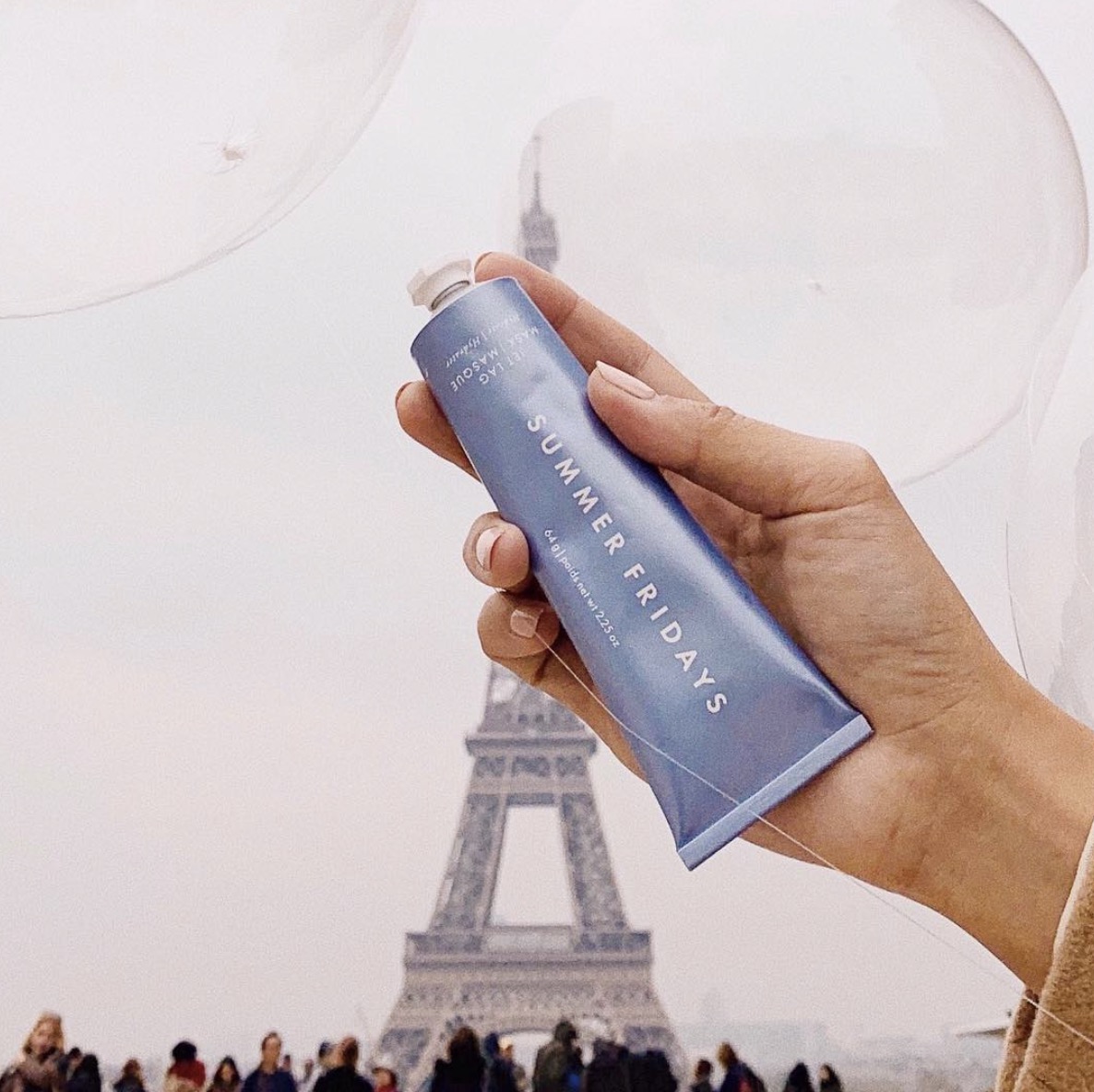 Doing a full skincare routine on the plane is all the rage these days, and as ridiculous as it might seem, it's actually a good idea. The air on planes is recycled and it's known for being drying and stale. Combat the dehydration and slather on a quality moisturizer and there's none better than Summer Fridays Jet Lag Mask. Because this product is a leave on mask, it rubs right in so the whole plane thankfully won't know you're wearing a face mask.
Whether you're travelling by plane, train, or car, your skin will need a little revitalizing whilst you're on your trip. Instead of lugging around a large heavy bottle of your fave fact mist, opt for a lighter version instead. The cult fave Caudalie Beauty Elixir is a brilliant way to freshen up after a long travel day.
Just because you're on holiday, it doesn't mean you can skimp on your skincare. Don't go without a good exfoliation – just pack a mini version of your fave. My go-to is Dermalogica's Daily Microfoliant and I'm thrilled it comes in a travel-friendly size because travelling can wreak absolute havoc on your skin
If you're heading on a beach vacay, sweat, and sunscreen can result in lots of build up on your scalp, so packing Christophe Robin's iconic scalp scrub is a great idea. This scalp exfoliator cleanses and soothes sensitive, flaky, and oily scalps.
Even if you're bringing your whole beauty cabinet with you on your trip, it doesn't mean you can't enjoy a multitasking product. Glossier's Milk Jelly Cleanser can be used as a makeup remover when used on dry skin, or as a cleanser that cleans deep on wet skin. What's even better is it's cruely-free, vegan, dermatologist tested, and ophthalmologist tested so it's safe to use around the eyes.
With baggage weight limitations in effect, it doesn't make sense to waste space bringing your full size foundation in its heavy glass bottle. However, don't think that I'm expecting you to travel without your essentials. It pays to buy a mini version of your go-to foundation and save it for travel days ahead. Giorgio Armani's Luminous Silk Foundation is a fave for a reason as it's weightless and gives skin a gorgeous, radiant finish.
There's something about travelling that just deflates your hair. If you need a bit of a pick me up in the haircare department, try a volumizing shampoo. This travel size shampoo from Rahua delivers noticable volume and body while nourishing strands with ingredients like omega-3s and rahua oil.
Featured Image: Instagram/@summerfridays
Articles You May Be Interested In:
8 Products To Get You Back In Your Routine After The Summer
8 New Drugstore Beauty Products Worth Checking Out
The Cheapest Destinations To Travel To From Canada From October To December
10 Ways To Make Travelling As Glamorous As Possible
7 Things To Know About Costco's Travel Site