I've been working for StyleDemocracy on and off for about 4 years now. In that time, I've been fortunate to work a variety of different roles. I've made some amazing friends, met some interesting customers, but probably best of all – I've found some of my favorite shoes and clothing at these sales.
Despite the perks, working at a warehouse sale is not easy and is definitely not for everyone. The hours are long and I am frequently asked to exert a serious amount of physical energy. But you know, what's the point of being young and physically fit if I can't handle it? 
If you've ever wondered what it's really like to work at a warehouse sale, I'm about to give you some serious insight!
Day 1 – 2 : The Setup
The first days of the sale are always interesting, to say the least. While we always have an idea of how much product we're getting, we never really know until the shipment arrives. Sometimes there are hundreds of skids stacked full of boxes and sometimes there are less. And while we like to think packing is going to happen as effortlessly as the GIF above… it doesn't usually.
The first couple of days, we spend each hour unloading, prepping and organizing the merchandise to go out on the sales floor. One of the biggest perks about working those first days it the sneak peak of what's going to be in the sale!
Day 3: First Day – Mayhem begins
If you're a real fan of StyleDemocracy, you know the first day can be a little hectic. Lines usually look like this: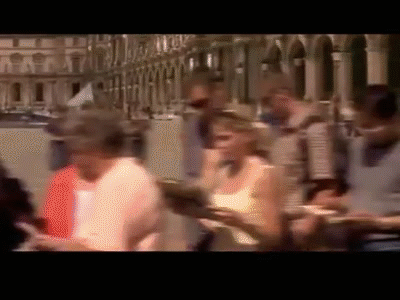 And the new staff is always amazed at just how many people show up.
via GIPHY
Doors open and all Hell breaks loose
Cashiering on the first day is like…
And then there are always the shoppers who take the sale a little more seriously than the others…
At times, particularly if you're new, it can sometimes feel like this!
But have no fear there's always someone to help!
At the end of the day, after our happy customers have left, you'll be tired, hungry and you may be wondering if you can really do it again. But if you dig deep, get a good night's sleep, you'll be ready for the next day!
Day 4 – 5: Weekend Shift
As a staff member, the weekends are the best days of the sale. Despite what you may think, the weekends aren't nearly as busy or chaotic as that first and last days of the sale. You actually get a chance to interact with customers and you'll finally get a chance to shop for yourself.
Day 6: Last Day Madness/Closing time
The last day of the sale also means last day pricing. Items are typically discounted further on this day, meaning, all the bargain hunters come looking for that one deal they've been waiting on all week. Selection is low, but so are the prices!
At the end of the night after the last customer has left and the cashiers have closed, it's time for cleanup.
Pack-up is straight-forward. The staff has one last chance to buy items and whatever is left is then packed onto the truck and sent back to the client. And just like that, it's all over. Everyone says there goodbyes and then it's on to the next one
Is that what you thought it'd be like to work a warehouse sale?
Want to see more posts like this? Get your fix of news, shopping tips, sales and event information on Facebook, Instagram, and Twitter. Sign up to be a StyleDemocracy Insider here.