Just because summer is technically over doesn't mean that the fun stops. September brings a slew of fun and free events including Toronto Fashion Week, TIFF, and more.
Take a peek at our top picks for the best free events happening in Toronto this September.
Toronto Fashion Week is happening the first week of September and in addition to fashion shows, TFW will be partnering with the arts-focused platform for a new exhibit. Hosted by influencer Gigi Gorgeous, the exhibit will be connect art, fashion, and culture through photography. Check out XPOSED x GIGI at The Oval at Yorkville Village from September 4 to 15.
The Toronto International Film Festival is back this month, and along with a slew of celebrities comes the annual Festival Street! Taking over King St. West from Peter St. to University Ave., there'll be tons of things to check out. Head over for star-gazing, a Nespresso Pop-up Café, an Acura NSX VR Experience, a L'Oréal Paris Iconic Beauty Bar: Test & Play, and so much more.
Experience authentic Chinese art and culture at the Toronto Dragon Festival 2019. This three day event will be held from September 6 to 8 at the Nathan Phillips Square and is completely free! Dance performances by talented artists, cultural booths, and food are just some of the many things that you'll be able to experience. The event starts at 11 a.m. and will go on till 9 p.m., so you have all day to check it out!
This month you can find the moon underneath the Gardiner! The Museum of the Moon features a big seven-metre wide moon by U.K. artist Luke Jerram. Get up close and personal, and enjoy meditation under the moon from September 10 to 13 and 15, astronomy talks, and live story telling. On September 14, there'll be a live podcast taping with Laurie Brown and Joshua Van Tassel, a sing-a-long with Toronto-based Choir! Choir! Choir!, a performance by Bernice, and a silent disco set by Rich Aucoin. While you're there, don't forget to check out Undercurrents, a water-themed photo exhibition, too!
If you love luxury cars then this is an event that you don't want to miss. King Toronto is inviting you to a VIP event hosted at 529 King St. West with cocktails and canapés, and it's free! Check out all eight generations of Porsche as well as the new Porsche 911 on September 12 from 6 p.m. to 9 p.m. — just remember to RSVP. And if you can't make it on the 12, you can still visit the exhibition from September 13-15.
Explore Ukrainian culture during North America's largest Ukrainian street festival. Celebrating 23 years in the Bloor West Village, there will be a children's midway, refreshment garden, craft and artisan market, food vendors, live performances, and a film festival. It's a great excuse to get outside and enjoy the city with your family and friends!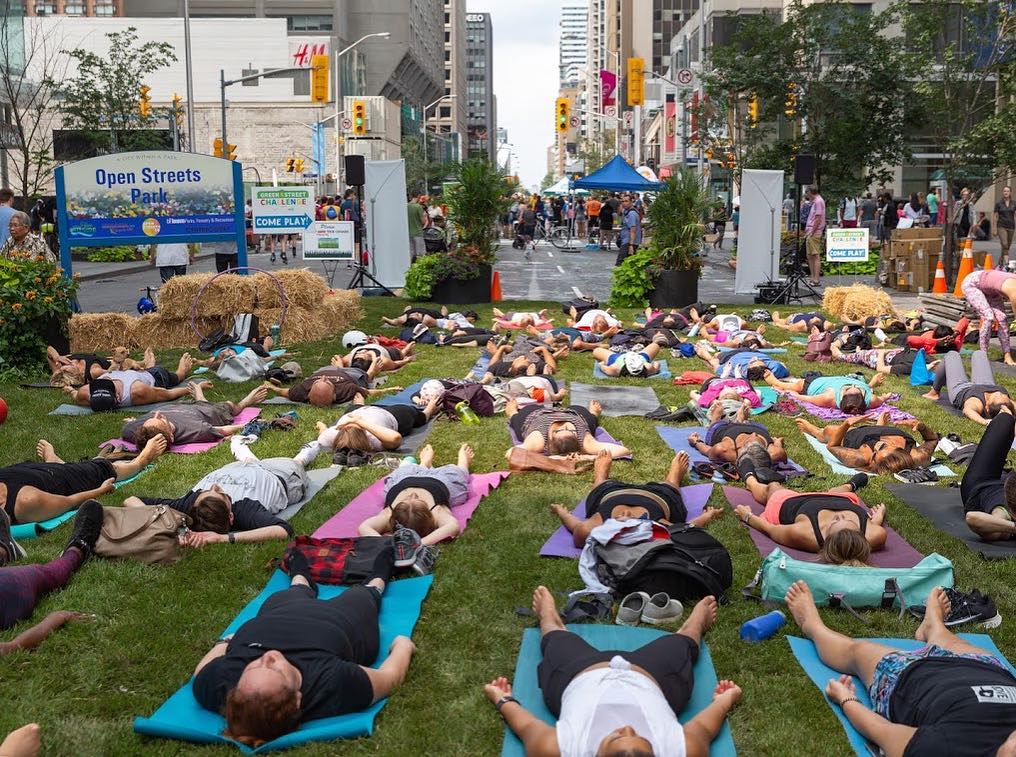 Getting bored at home? Join in on the fun on September 15 with your family and friends for another open street event. Starting at Bloor and Ossington and going all the way Yonge and Shuter St., there will be activities like yoga, rollerskating, an escape room-based puzzle, art installations, and more from 10 a.m. to 2 p.m.!
Head over to the Royal Ontario Museum for free on the third Monday of every month! From 5:30 p.m. to 8:30 p.m., you'll get to check out the 40 permanent collections at no cost.
If you're interested in learning about your Sun, Rising, and Moon signs, head over to The Burroughes for a night of astrology with Nadine Jane and Mejuri. You'll also have the opportunity to shop Mejuri's new 14k Zodiac necklaces and charms, and win a private reading with Nadine Jane Astrology. All you have to do is RSVP to reserve your seat!
From 1 p.m. to 5 p.m. on September 29, join the David Suzuki Foundation in a butterfly-filled musical spectacle and parade from Trinity Bellwoods to The Bentway. The event will start in Trinity Bellwoods Park where participants are invited to decorate their own bee and butterfly costumes. The parade will go through Stackt Market and end at The Bentway where there'll be food and drinks, musical performances, and social time.
Featured image: Instagram/
Articles You Might Be Interested In 
How I Grew my Savings to $100,000 by my 30th Birthday
Here Are All The Free Items You Can Get On Your Birthday In Toronto
Inside NKPR President Natasha Koifman's Lavish, All Black Closet
Where To Spot Your Favourite Celebrities During TIFF 2019
Here's How To Get Free Stuff From All Your Favourite Brands