There are a lot of people who find warehouse sales intimidating, but personally, I find the hunt thrilling.
I once found a pair of Chloe mules and Derek Lam heels for $75 each, which wouldn't of been possible if I didn't put my shopping sleuth skills to test.
Sure, warehouse sales are huge, more than often messy, and sometimes you have to fight for what you want, but within those piles is a deal you don't want to miss out on, and saving money on quality goods is an adrenaline rush that really gets your blood pumping!
For seasoned warehouse sale shoppers, the tips below serve as a great refresher. For new warehouse sale shoppers, the tips below will help to build a strategy that'll get you the most bang for your buck without the feeling of being overwhelmed.
Here are our top 11 tips for how to shop a warehouse sale:
1. Dress appropriately.
Leave you heels at home and grab the most comfortable shoes you own because you will be in for a lot of walking! I'm not kidding when we say that these warehouse spaces are huge — I've been to warehouse sales that span over 50,000-square-feet. To find that perfect item, you might have to walk in a lot of circles.
It's also important to wear clothing and footwear that's easy to take on and off incase you want to try items on. While some sales have change rooms, others do not, so you'll want to wear clothing you can try other clothing on top of.
The warehouse sales that do feature change rooms will likely feature communal change rooms. There are typically separate ones for men and women, but be prepared to get down to your skivvies in a room full of others — leave your modesty at home!
2. Plan your time accordingly.
If you have dinner plans at 6:30 p.m., don't expect to show up at the warehouse sale at 6 p.m. and be out on time! In all actuality, you'll probably need to give yourself at least a few hours to sift through every pile, rack, and row.
In terms of cleanliness, the best time to hit up a warehouse sale is as soon as it opens — everything should be organized from the night before, and they usually replenish the stock at end of the night or start of the new day.
In terms of line-ups, the best time to go is after the lunch rush and before the after-work crowd shows up. Between 2 p.m. and 4 p.m. is typically when the crowd dies down.
If you're looking for the best savings, then check out the sale the last couple of days. For mega savings, check out the sale the last few hours of the last day — however, be prepared for a mess and over-picked stock. All that sifting is just a small price to pay for the huge discounts you're about to save!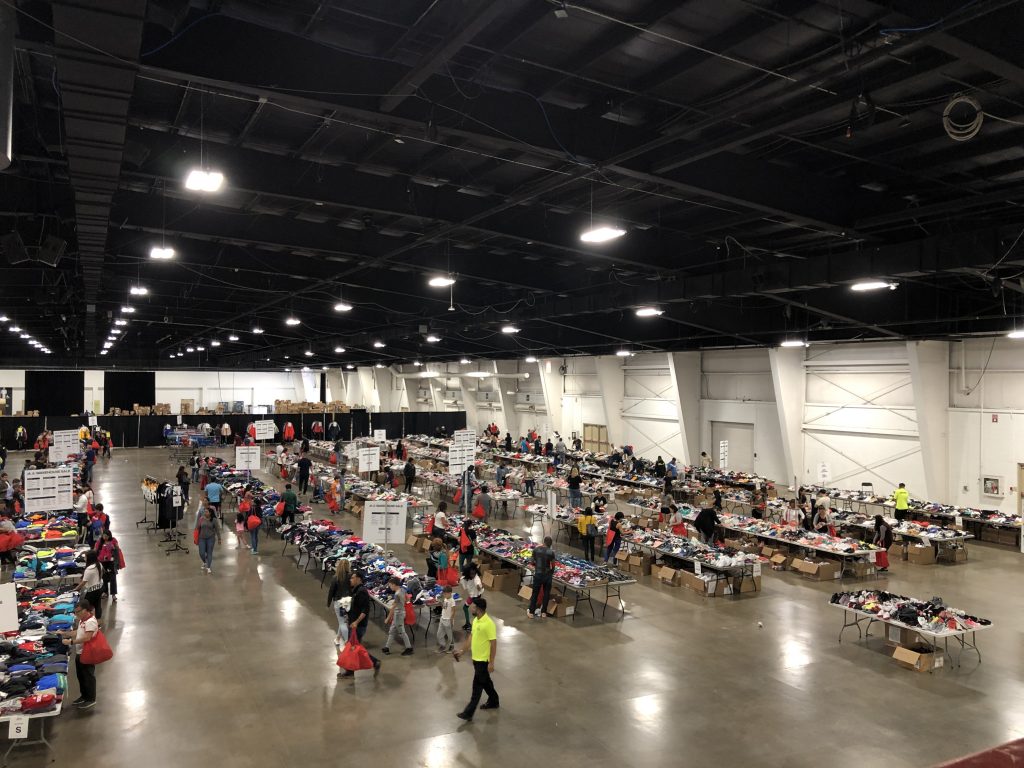 3. Come energized!
As you can imagine (or already know), all of that searching and sifting gets exhausting. Shopping is a huge workout (or so I like to convince my boyfriend)! Make sure you don't arrive on an empty stomach because you're sure to leave in bad mood with no finds. Pack a granola bar and a water bottle to keep you energized.
4. Leave your big bags at home.
Leave your backpacks, tote bags, and big purses at home. First off, they're going to be super heavy and annoying to lug around for the hours you might be there. Secondly, for security purposes, many sales don't allow big bags inside, and you will probably be asked to leave it outside or in your car. Cross-body bags and fanny packs are perfect for holding your things and keeping your hands free while you shop!
5. Read the event details carefully.
I've seen plenty of people leave sales upset because they didn't read the details of the event carefully. Find an official event listing and be sure to read it! Sometimes there are small details like the types of payments accepted, items allowed inside, or notes about doors closing unexpectedly that make a huge impact on whether or not you'll have a successful shopping trip.
Reading the details will ensure that you're not that person who shows up to cash only sale with nothing but credit cards, or doesn't get let in because the sale doesn't allow strollers.
6. Be rational with your purchases.
$25 for a pair of shoes is a crazy deal with huge savings, but do you really need 5 pairs? Don't be blinded by the sales because that's a surefire way to end up with a case of buyer's remorse.
Think about if you would be buying the item if it were full price — do you really love it that much? Buying only what you need, what you really want, or sticking to the classics is the best way to ensure you leave with no regrets.
And remember: all sales are final at these kinds of events.
7. Patience is a virtue.
Like I said earlier, you've got hours of sifting ahead of you. Although, things are "organized" by size and category, it's impossible for the sales staff to keep tabs on what everyone is doing with the merchandise all the time — things get messy.
The sales staff are doing their best jobs, so try not to get frustrated at them! There are also tons of people trying things on, so if you see someone grab something you love, sometimes it's best to wait around. You never know if it'll end up back on the floor!
And did we mention lines? Lines to get into a sale and to check out can be long, but again, it's just a small price to pay for what you're gonna save! Think about bringing some music or your phone along to keep you distracted. Sometimes these sales even have free wifi!
8. If you have time, come back multiple days.
Sometimes the best stuff is hiding in a box that's the last to get opened. Oftentimes, warehouse sale staff don't know what's going to be in the boxes they're unpacking. That means that new gems are unboxed each day! Each sale day is different, and you never know what you're going to find.
9. Know when you're really getting a good deal.
The great thing about our phones is that we always have a way to research what we're buying. What a time to be alive! If you're unsure if what you're perusing is actually worth it, search the style online and see if you can find the regular retail price on the world wide web.
10. Come with an open mind.
Warehouse sales are like a box of chocolate — you never know what you're going to get! It's best to come with an open mind instead of having your heart set on a specific model or design.
It is good to have a general idea of what you want, though. For example, know that you need gym sneakers or workout clothes. But if you come in wanting the exact pair you saw Selena Gomez wearing last week, chances are, you're going to leave disappointed.
Warehouse sales are typically made up of limited-run samples and styles from seasons past. There are cases where you'll find this season's makes, but those aren't always easy to come by.
11. Keep an eye out for extra savings.
More often than not, the company throwing the sale will give out discounts just for signing up for their mailing list. Many companies also run promotions throughout the sale — think buy five items, get an extra 20% off types of deals. Stay in the know with your favourite warehouse sale companies by following them on social media or joining mailing lists — it's the best way to stay up-to-date on all happenings.
Want to keep updated with the next warehouse sale in your city? Sign up for our mailing list here or check out our event listings here.