Toronto is one of the most expensive cities in the world and there's no question why. Between the high-priced rent, steep bills, keeping up with designer fashion trends and attending lavish parties every other weekend, your paycheque disappears faster than you have time to even think about how you could spend it.
One thing's for sure, you don't have extra cash to blow on fancy lunches every day of the week. Sometimes in order to survive in the city, you have to pinch a few pennies and save a few dimes to get by. One way to save a couple bucks is by hitting up some of these spots for cheap eats. But fear not, you won't be sacrificing quality for price when it comes to the food at these places.
Here are 18 of the best cheap eats in Toronto for $6 or less.
If you're really hungry but don't want to spend a lot of money on food, head over to Patties Express for cheap eats in Toronto. Two patties and a can of pop will cost you just $4.88. The spicy chicken is a must have and is sure to satisfy your cravings, and your wallet. 4 Elm St.
Deemed the unofficial Subway of Vietnam, everyone has to try Banh Mi Boys at least once. The banh mi is awesome here and they also serve tasty bao, like the pork belly bao for just $4.75. Topped with a specialty spicy sauce and pickled daikon, this is some delicious eats for under $5. 392 Queen St. West.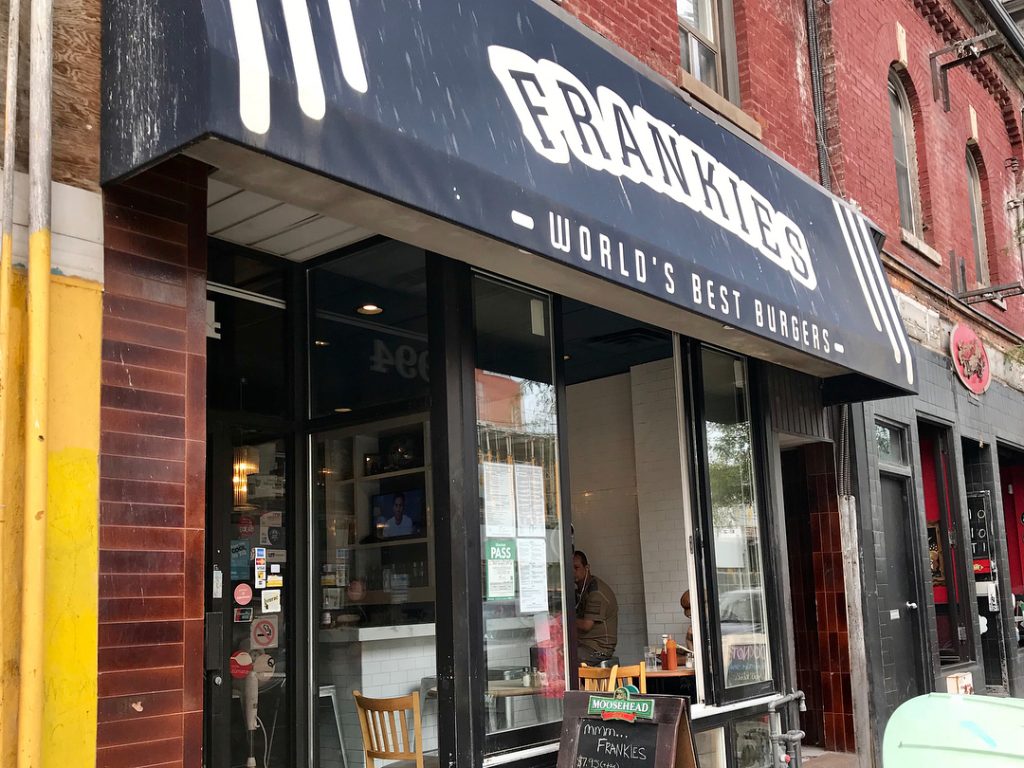 This cute diner has great, cheap breakfast and what they call "Toronto's best burgers." While you'll have to dish out an extra $1.50 to try their classic burger, menu items like the BLT and Grilled Cheese sandwich are under $5, with many other items around $7. There's something for everyone at Frankie's! 994 Queen St. West.
Comparable to its counterparts — El Furniture Warehouse and Queen Street Warehouse — consider The Dime the older, cooler cousin. These premium dive bars host $5.95 meals all day, every day. Although the drinks come in at a normal bar price, this is one of the cheapest bars for good food in Toronto. 538 Queen St. West.
This Vietnamese spot offers a whole menu of cheap eats in Toronto. Most menu items are under $5.40 and they have seven locations in Toronto. Everyone raves about the dumplings and steamed buns. We suggest an order of thepork & shrimp dumplings which has a price tag of just $4.80 – be sure to ask for their dipping sauce! Multiple Locations.
Square Boy has been a fixture on the Danforth since the 1960s and brought Toronto the first square-shaped hamburgers. With burgers starting at $3 and assorted hot sandwiches and fried food for under $4.25, this spot has something for everyone's taste buds and budget. Oh, and did we mention they have a patio, too? 875 Danforth Ave.
This old school diner may be tiny, but its food is BIG. Gale's Snack Bar serves sandwiches in a low-key, throwback atmosphere with no frills. Try a club sandwich for just $2.50 or a hot turkey sandwich with fries for just $3.75. But don't worry, you'll pocket enough change for dessert where a slice of homemade pie is only $1.25. 539 Eastern Ave.
Nothing fills your tummy quite like a bowl of noodles or soup, and that's exactly what you'll get at Goldstone Noodle Restaurant in Chinatown. Don't let the BBQ animals hanging from the window scare you, this restaurant serves up some of most delicious Asian-style BBQ in the city. A small, yet filling bowl of Soya Sauce BBQ pork will cost you just $4.95, while noodle soups and a variety of dim sum dishes are also mostly under $5. 266 Spadina Ave.
This King West gem is known for combining great value with amazing taste. Wilbur Mexicana's tacos range from $4.45 to $4.95 ($3.75 for their vegetarian option) and there are over 100 types of hot sauces to kick your meal up a notch. Not to mention, sides like three extra tortillas or chipotle cream are only $1. 552 King St. West.
If you love Chilean food, Jumbo Empanadas is the place to go for cheap eats in Toronto. The empanadas start at $5.50, but the portion size is worth every penny. Otherwise, if you're really on a budget, mini empanadas start at only $1.75. 245 Augusta Ave.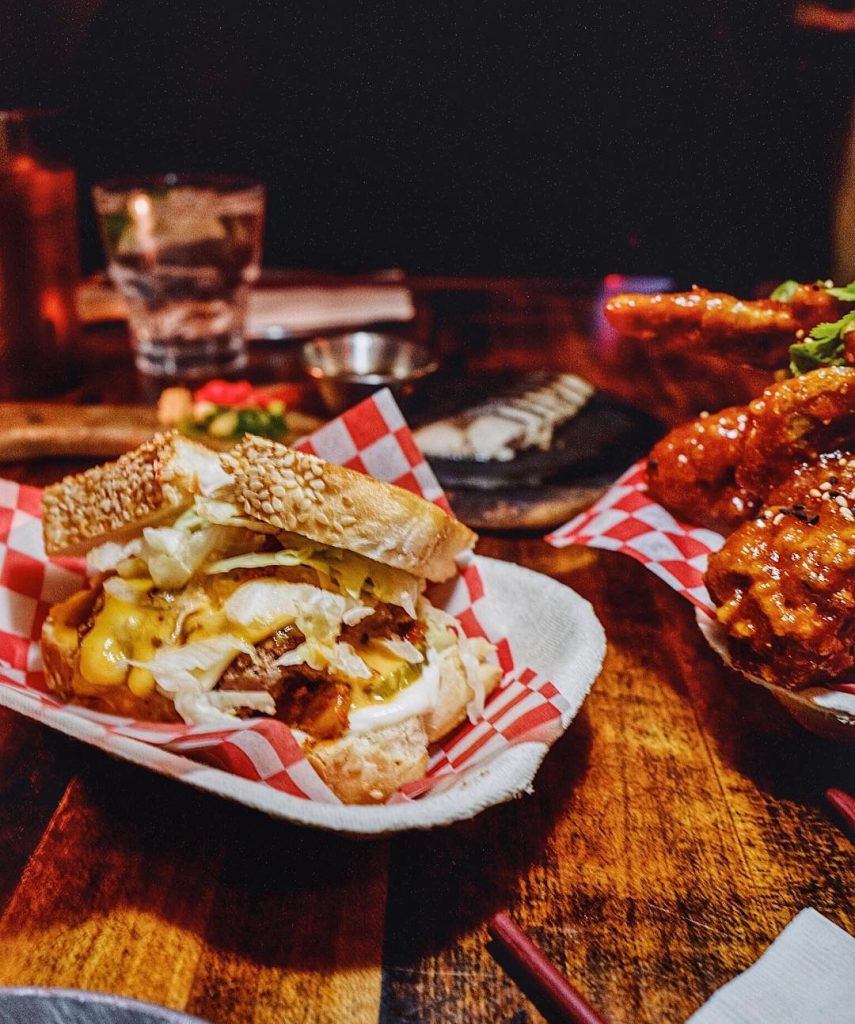 Located on Ossington, Oddseoul is a blink-and-you-might-miss-it sorta spot. The small restaurant has limited seating, but once inside, their snack menu features delicious items like Bulgogi Cheesesteak, Steamed Bun, Spicy Scallion & Avocado Slaw for just $5. Our favourite dish is "The Loosey," their take on the Big Mac, made with juicy short-rib, kimchee, processed cheese, pickles, mayo and ketchup on a sesame challah bun. 90 Ossington Ave.
If you're looking to score some authentic Greek eats for around $5, Messini on the Danforth has got you covered. Their Pork Souvlaki and Vegetarian pitas ring in at $5.80 and $5, while pork or chicken souvlaki on a stick will only put you out $3.75. Willing to dish out a little extra? The delicious Kebab Pita with charbroiled beef isn't much more, costing $6.50. 445 Danforth Avenue.

The Vietnamese sandwiches at this gem in the Riverside area are super cheap and filling. Basically everything on the menu is under $5, with subs like Banh Mi Chay (vegetarian tofu), Heo Cha Bong (cooked shredded pork), and more satisfying your hunger. They also have a number of juices and fruit shakes that'll fit your budget. 601 Gerrard Street East.

The Mexican taco joint specializing in seafood is the place to stop if you are wandering around Kensington market. Almost everything on the menu is $5 plus tax including Baja Fish, Pulpo Enojado (octopus), Blackened Mahi Mahi, and the Catch of the Day. Considering that seafood is usually priced at a premium, this is truly a steal. 69 Kensington Ave.

Our friends at The Dime know cheap food! Queen Street Warehouse, one of their other popular establishments, also has a $5.95 menu. New menu items that were recently added include Avocado Tacos, Roast Turkey on Cranberry Sourdough, and Cheesecake. But be aware, this spot is popular and usually has a line up down the street. 232 Queen Street West.
It's no secret that College Street is home to some fabulous food. The next time you're in the area make sure to check out Utopia for its affordable menu. While actual meals are a little more expensive, their appetizer menu, which boasts a number of yummy items, is almost exclusively $5. We suggest the Chicken Karaage, Veggie Chili Bowl, or Crab Cakes. 586 College Street.
Java House is a Queen West staple for many hungry patrons and for good reason. The menu is incredibly affordable and extensive. Grab one of their salads or sandwiches for under $4.95 with choices like Avocado and Brie, Sautéed Beef, Classic Tuna, Caesar Salad, or Greek Salad. In the mood for all-day breakfast? It's only a nickel and dime more with everything costing under $5.95. 537 Queen Street West.
Another place to score cheap eats in Toronto is When The Pig Came Home. The mouth-watering butcher shop on Dundas West might have a small menu, but it's arguably the best place to get a peameal sandwich. The Original Peameal on a Bun is only $5 while they also offer Vegetarian Egg N Cheese for the same price. Who says meat eaters and vegetarians can dine side-by-side?! 3035 Dundas St West.

Featured image: Instagram/@c4pturing_m3mories
Articles You Might Be Interested In
Here Are All The Free Items You Can Get On Your Birthday In Toronto
7 Of Toronto's Most Beautiful Grocery Stores
9 Brilliant Ways To Score Cheaper Concert Tickets
The 6 Cheapest Gyms In Toronto To Join
8 Brilliant Ways To Score Cheap Movie Tickets In Canada