As the New Year begins, it's time to say goodbye to the old and make room for the new. And while you're doing that, you'll probably begin to see a pattern; the things you're saying goodbye to are things that you only used a few times.
Though those things can be donated — you know what they say, one person's trash is another's treasure — it's hard not to feel remorse over money spent on something that only sparked joy for a handful of moments.
Luckily as the years go on, wastefulness and the dangerous harms of fast fashion are recognized more than ever before. Our options for shopping better quality, earth-friendly, and socially conscious products are ever expanding, so when we are consuming, we can be smarter about it.
Instead of buying something you'll regret the next time you're cleaning out your house, check out these sustainable online stores that all ship to Canada.
One-Stop Shops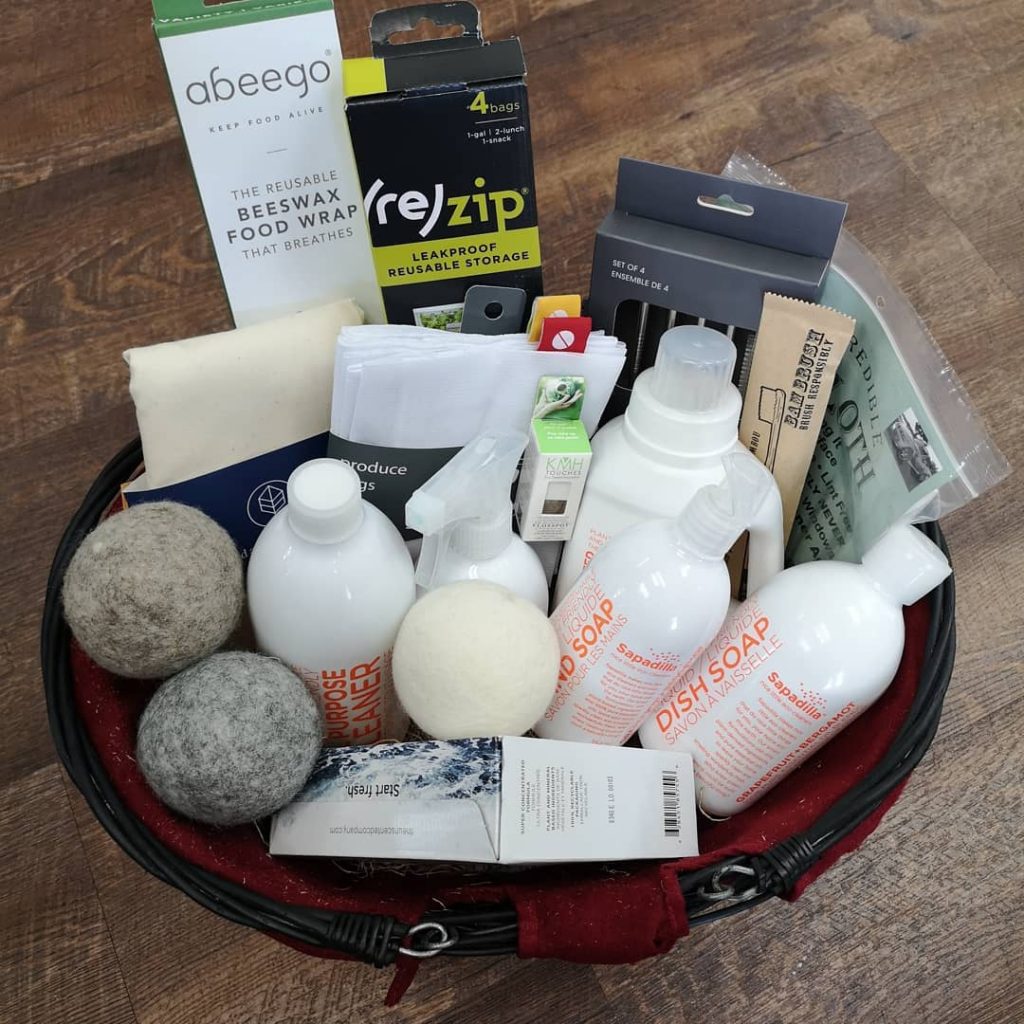 Head over to All Things Being Eco to shop environmentally conscious and ethical home, baby, bathroom, cleaning products, and more. Our favourite section of All Things Being Eco is the zero waste page, where you can find refills on organic and natural products like shampoo, skin cream, deodorant, dish tabs, cleaning products, and more. Shop All Things Being Eco.
Whimsy + Row is an L.A.-based brand that makes stylish clothing collections in ethical conditions using deadstock textiles and materials. Each collection is made in limited runs and is built to last. Not only that, but you can take pride in knowing that Whimsy + Row don't use any water when creating their collections, only ship items with 100% recyclable packaging, and choose fabrics and materials that biodegrade faster than synthetic fabrics and use less water to create. You can also find homewares, skincare, and gifts from brands with similar ethos. Shop Whimsy + Row.
Another one-stop on our list of sustainable online stores is Sustain Ecostore. The store was created by husband-wife duo Jonathan and Celine MacKay as a solution to toxins inside the home. Each and every product on the website — from kitchen and home, to skincare, baby, and more — has been personally researched and used by the founders, and puts the health of the earth and your family first. Shop Sustain Ecostore.
Another one of our favourite sustainable online stores is Logan & Finley. Based in Toronto, Logan & Finley is an eco-conscious general store that thoughtfully chooses everything features. Online you'll find ethically sourced, sustainable giftables, clothing, skincare, cleaning products, and more that don't compromise on style or quality. Shop Logan & Finley.
If you want to feel really good about where you shop, check out Ten Thousand Villages. The non-profit partners with artisans in developing countries, giving them a space to sell their goods, share their stories, and earn a living. Currently, Ten Thousand Villages works with over 20,000+ makers in 26 different countries, and offers everything from kitchenware to home decor, furniture, clothing, accessories, and much more. Shop Ten Thousand Villages.
Fashion
Thrift stores can be daunting; sorting through racks and racks of clothing to find one perfect piece isn't for everyone. But at ThredUP, the world's biggest online consignment store, thrifting is easy and you're saving a piece from making its way to a landfill! Using the filter option when you shop, you can easily sort through clothing sizes, styles, and brands. Plus, if you're a first time shopper, you can get 50% off your first order. Shop ThredUP.
One of our favourite online designer consignment shops is The RealReal, which features thousands of gently used pieces of jewellery, clothing, shoes, handbags, and accessories from luxury labels like Gucci, Fendi, Prada, Louis Vuitton, and more. Each item is inspected and authenticated so that you know you're getting the real deal. Shop The RealReal.
By now, you probably already know Reformation, the sustainable brand that's loved by celebrities. But what you might not know is that the L.A.-based brand also has a section on their website that help reverse the negative effects weddings, flights, and individuals have on climate. You can buy carbon credits starting at $32, which support Gold Standard verified projects through NativeEnergy and invest in clean energy and carbon-reducing projects around the world. Shop Reformation.
Beauty
At The Detox Market, only the best clean beauty products are featured. Each product features pure ingredients, performs exceptionally, and is cruelty-free. Online you'll find notable brands like RMS Beauty, ILIA Beauty, OSEA, Pai Organics, Alima Pure, Goop, and more. But if you're new to the clean beauty game, start with the best sellers, which can be found on the homepage. Shop The Detox Market.
After being diagnosed with chronic leukemia in 2007, Ingrid Doucet became super aware of everything she put in and on her body, leading her to start Clementine Fields with her husband Tom. The online shop sells beauty products that are not only effective and green, but have the lowest environmental impact and are worthy of being displayed on your vanity. You can also shop plastic-free items to lessen your footprint even more. Shop Clementine Fields.
Articles You Might Be Interested In
The 5 Best Online Designer Consignment Stores That Ship To Canada
Here's What It's Like Shopping On ThredUP, The Largest Online Consignment & Thrift Store
The World's Biggest Athletic Brands Are Finally Making Sneakers Sustainable
Fast Fashion Retailer Promises To Make All Clothes Sustainable By 2025
6 Sustainable Toronto Fashion Brands On Our Radar