If showering your bae with expensive presents isn't in the cards this year, but you're still wanting to make special memories, a dinner date might be the answer. Toronto is home to not only some of the best restaurants, but also some of the most romantic. Plus with our city being so diverse and multicultural, you can have any craving satisfied.
Keep reading for 10 of Toronto's most romantic restaurants!
Le Sélect Bistro is well-known in Toronto for its fabulous French fare, but also being tres romantique. Just in time for the big day, Le Sélect is offering a delectable prix-fixe Valentine's Day meal for $69 per person that features classic French menu items like steak frites, escargot, and creme brûlée.
Located inside the St. Regis Toronto on the 34th floor is Louix Louis. Not only is this restaurant absolutely jaw-droppingly stunning, but it boasts some of the best food in the city. Don't believe us? Try out its 4-course Valentine's Day prix-fixe menu that features caviar, oysters, roasted duck breast, and much, much more. This is the perfect spot for anyone wanting to impress their date.
If Japanese is more your thing, head to Yorkville's Aburi Hana for a date night dining experience that's unlike any other. While you won't find your basic spicy tuna roll here, you can expect an innovative dining experience during one of its two 15-course dinner service menu.
If you and your boo love classic diner food, treat yourselves to an upgrade at Aloette. Situated right along Spadina like an old school train car, the restaurant offers classic dishes done right like lemon meringue pie, cheeseburgers, lobster rolls, and fried chicken. Honestly what could be better?
Head to Dundas West for dinner at La Palma. This Italian hotspot is not only super Instagrammable, but it's got food that's equally as tasty and gorgeous. Tuck into tasty pizzas, pastas, or share the restaurants legendary 100-layer lasagne — what could be more romantic than that?
Check out Sofia that's located in Yorkville for an upscale dinner date. Here you'll find unique takes on Italian dishes but with a luxe touch. Spring for caviar, dive into whole roasted branzino, or opt for classic pasta dishes. Either way, you're in for one delicious evening at one of Toronto's most romantic restaurants.
A classic in Toronto for good reason, Café Boulud is owned by celebrity chef Daniel Boulud so you know it's going to be good. To celebrate Valentine's Day, the restaurant is offering an intimate dining experience that will end with special desserts created by Executive Pastry Chef Steven Tran.
Head up to the 44th floor of Toronto's BISHA Hotel and dine above the city this V-Day. Kōst offers up sunny California inspired dishes that'll make you feel as if you're on vacay with your SO. Make your night extra special and enjoy the restaurants 3-course prix-fixe menu that's $95 per person.
If you and your partner are always guilty of being on your phones during your meals together, head to Sara. It's here that your phones will be locked inside your table during your meal so you two can be focused on each other — and the food. And with dishes like cauliflower gnudi, a wagyu reuben, and varieties of dumplings on the menu, you won't want to be distracted by emails!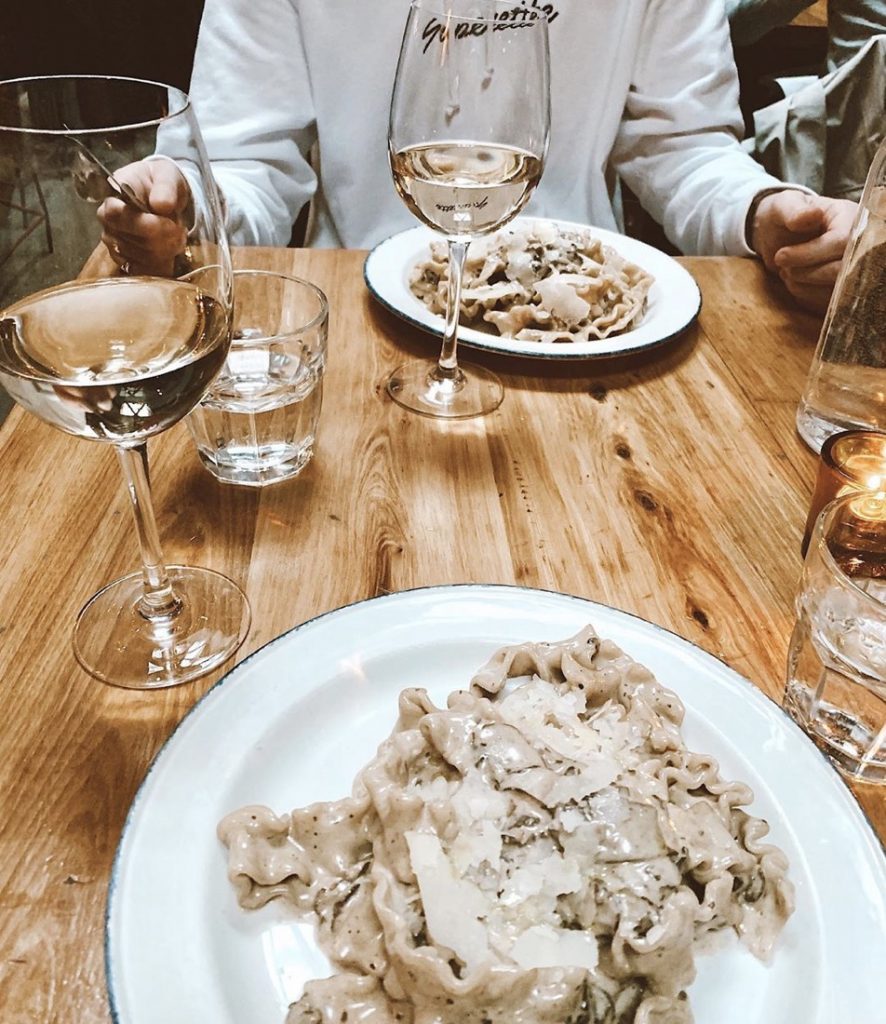 Gusto 101 is well loved in Toronto and even if you've been a million times, it's just so good that you can't stay away for long. Treat your bae to Gusto's legendary Cavolo Nero salad and Mafalde Al Funghi (mushroom pasta) and you'll be having the time of your life.
Articles You May Also Be Interested In:
10 Of The Best Gifts To Buy Your Boo This Valentine's Day
IKEA Is Hosting Cheap Romantic Dinners For Valentine's Day
10 Valentine's Day Gifts For All The Men In Your Life
Single? No Prob — Here Are 10 Friend Dates To Go On This V-Day
10 Of The Most Romantic Getaways In Ontario