Are you getting the feeling it's time to revamp your wardrobe? Whether you want to keep up with the latest trends or completely overhaul your personal style, we have some tips to help.
Here are some things you can do to completely revamp your style without breaking the bank.
1. Start With a Closet Clean-Out
Before adding any new pieces to your wardrobe, it's time to say goodbye to some of your well-loved or never-worn items. Take the time to go through your closet and see what you can part with.
Departing with clothes that are no longer your style makes more room in your wardrobe and creates a fresh start for your new aesthetic. Plus, you may even be able to take your gently-used clothing to a consignment store or sell them online for some added funds to purchase new items.
2. Be Creative With What You Already Have
After cleaning out your closet you may have some pieces that you don't want to part with or that can serve another purpose. When you want to revamp your wardrobe on a budget, reinventing some of your existing clothing items is a great way to save money.
Be inspired by trendy items and see how you can breathe new life into what you already own. For instance, a pair of jeans can be cut into cute shorts for the summer or a denim jacket can be updated to a Y2K style with appliques and some paint.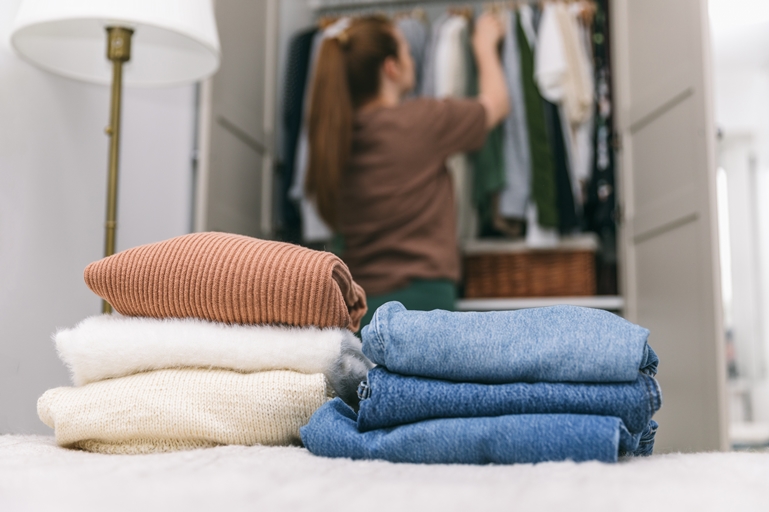 3. Define Your Style
Before heading to the store, make sure to define your style and get an idea of what you want to buy. Maybe you want to go outside of your comfort zone or perhaps you want more classic pieces, like a little black dress, to create a capsule wardrobe.
No matter the case, creating a mood board or other lists can help keep you focused (and within your budget) as you revamp your wardrobe.
4. Think of Layers
As you shop, think about how you can mix and match items in your wardrobe year-round. Layering pieces is a great way to feel comfortable, look trendy, and get the most out of your clothing.
This might mean investing in more basics like a short-sleeve white tee and neutral colors, but also keep your personal style in mind.
5. Look For Sales
When you're revamping your wardrobe on a budget, sales will be your best friend. While you can also find plenty of great items at thrift stores, you can also avoid paying full price on completely new items through warehouse sales and more. 
Next time you think "I need to revamp my wardrobe" turn to StyleDemocracy. Check out our upcoming sales events from our amazing brand partners.
Articles You May Also Be Interested In
20 Of The Best Online Stores To Buy Comfy & Affordable Loungewear
15 Of The Best Loungewear Brands To Shop For Men
29 Stylish Loungewear Brands To Shop For Working From Home
10 of the Best Value Village Locations to Shop at in the GTA