You just can't ever go wrong with a white tee — wearing one, that is. Buying one is another story altogether. Too sheer, ill-fitting, not breathable — it just proves that it's hardest to get the easiest things done right. When done well, a white tee can become the basic building block of any outfit and any style, dressed up or down. The fact is, quality pieces should be an investment in your closet. If your t-shirts cost you the same as a coffee, you're probably doing it wrong.
Here are our picks for what brands to shop for the perfect white tee. You can thank us later!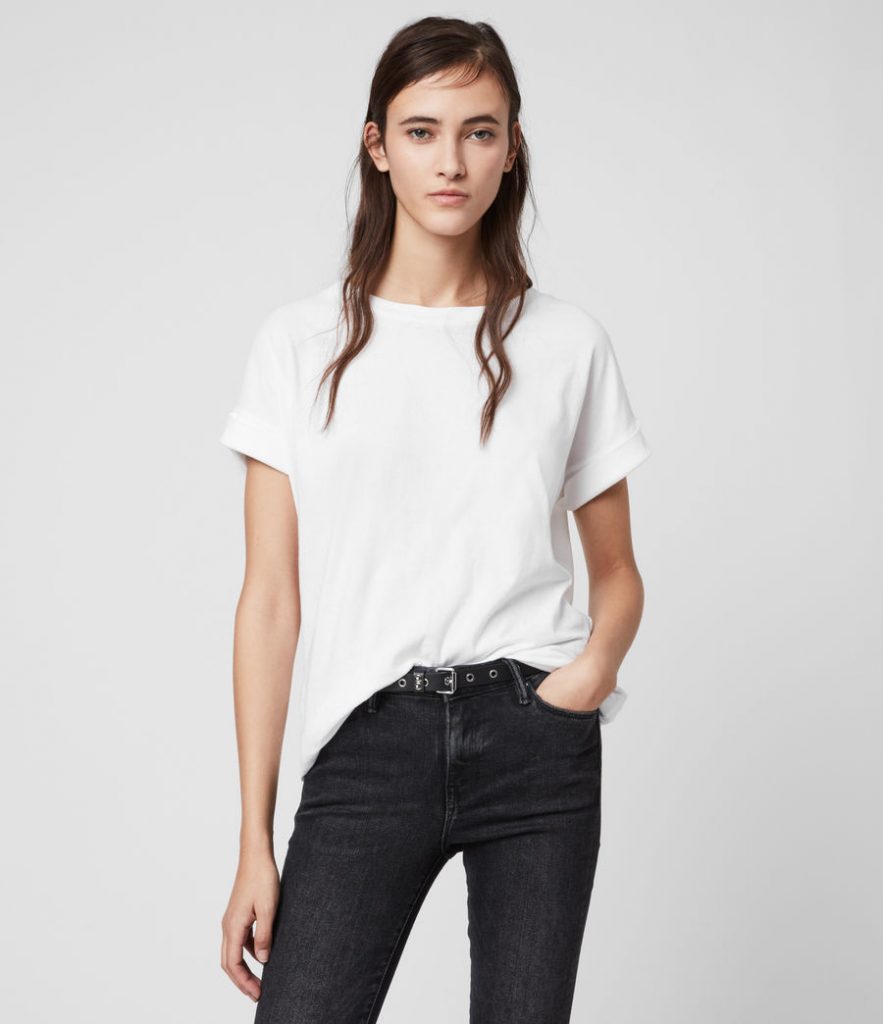 Allsaints has the rocker chic look down to a tee. (Get it?) The Imogen Boy T-Shirt comes in a blinding shade of white, with a crew neckline and its length hits slightly beneath the hip for an effortless cool vibe. French tuck it into your ripped skinny jeans (black, of course) or wear under a leather jacket.
Everlane's V-neck white tee has the perfect V-neckline — not too deep to be scandalous, and not too high to not be a proper V-neck. Perfect for stacking necklaces, this tee also scores points because of the brand's radical transparency around its manufacturing practices.
This Uniqlo U tee is made of 100% cotton and is just thick enough to render your bra underneath invisible (a very important part of white tee philosophy) — while still being super soft and breathable. The thick ribbed neckline and almost-seamless cuffs finish off the impeccable design — great as a standalone option or for casual layering.
Muji is all about living well with minimalism, so you really can't go wrong with this white tee. Made from thick organic cotton, it's super comfortable for everyday wear and the scoop neck and pocket detail add some interest to what would otherwise be just a regular t-shirt. Wear with wide-leg jeans and sneakers for an easygoing look.
Classic and comfortable, this 100% cotton crewneck from Levi's is literally made for all your white-t-shirt-and-jeans outfits, while the screen-printed logo adds a little bit of something-something. Size up for a casual streetwear-inspired fit.
The classic tee, elevated. This Madewell piece is made from Supima cotton, so it's super soft. The drapey cut and V-shaped neckline make this a perfect layering piece under a blazer for work, while the raw sleeves present a classy-meets-laid-back vibe.
If Vera Wang herself claims to sleep in these, then why even bother looking anywhere else? This pack of three Fruit of the Loom tees manages to not only be friendly to your wallet, but also unabashedly down-to-earth. Easy and breezy, with nothing to lose.
This New York-based basics brand is not one to miss. This boxy crop t-shirt was made for when you want to be both effortless and casual, yet undoubtedly cool. Wear it to and from the gym one day, and with distressed denim and boots the next.
They call this "the tee" because it's pretty self-explanatory — a pima cotton, crewneck t-shirt. This one runs a little more sheer for a more delicate, feminine vibe, making it the perfect compliment to a pair of nude heels or even a pair of combat boots.
It might sound counterintuitive to spend this much on a t-shirt, but hear me out. If you're going to splurge on a designer piece, isn't it better that it be something you can wear often, on an everyday basis? This CDG tee manages to not be too showy about the label either, with a thick ribbed collar and longer sleeves that are true to the real t-shirt fit.
This t-shirt says "casual, but not really" —like in the way that the Kardashians are "casual." Again, this tee is 100% cotton and it's made in Portugal, plus it features a printed logo on the chest. Wear with your best body-hugging miniskirt, or a pair of ribcage Levi's to cement the look.
Articles You May Also Be Interested In:
9 Brands With The Best Basics To Invest In
12 Of The Most Cozy Sweatpants To Lounge In
Wondering How Your Shopping Habits Affect Climate Change? There's A Tool For That
10 Trés Chic Brands To Shop If You Love French Fashion
Why More High-End Brands Are Expanding Into Plus Sizes