From the instantly recognizable beaver logo, to the classic salt and pepper speckled sweatpants, Roots has become the unofficial uniform of Canadians. The wilderness-inspired casual athleticwear pieces are perfect for lounging around the house, or staying cozy next to a campfire. We're willing to bet that you have at least one item from Roots in your closet, and if you don't are you sure you're even Canadian? For anyone who is obsessed with shopping at Roots, these brands need to be on your radar the next time you shop!
Here are 10 brands to shop if you just can't get enough of the Cozy and laidback style of Roots!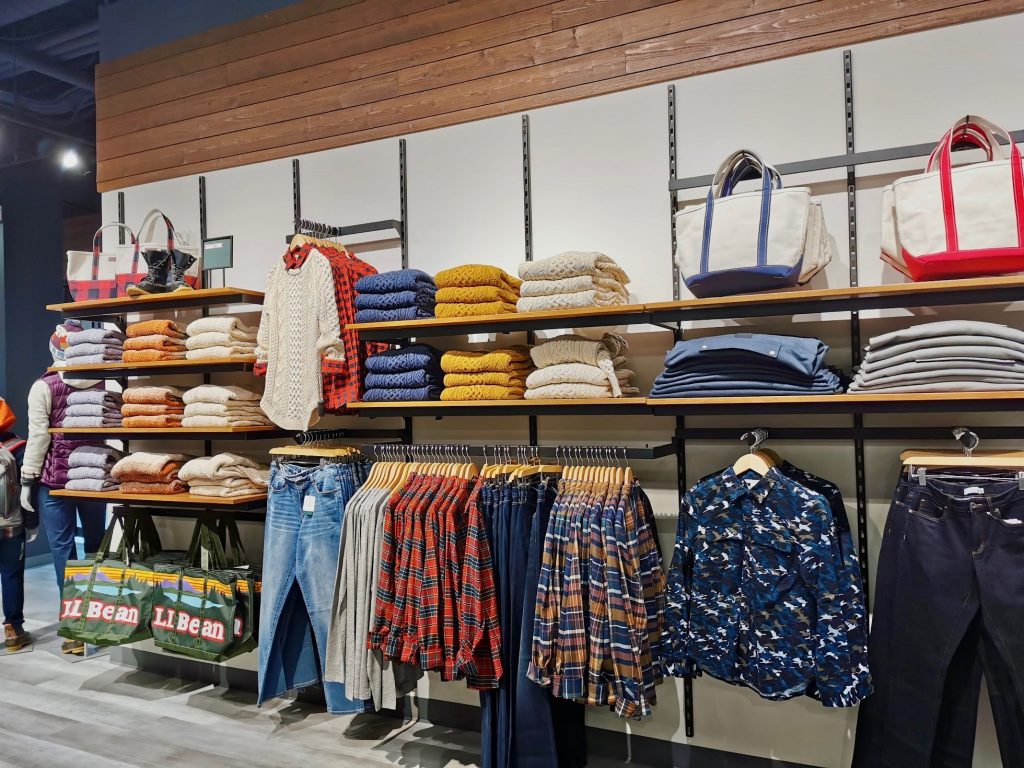 Launched over 100 years ago, L.L. Bean became popular from the sales of its Bean Boots, originally designed for hunters. Since the company's launch over 100 years ago, the brand has grown to include clothing, footwear, outdoor equipment, and home goods. It's effectively become a one stop shop for all your outdoor needs. L.L. Bean's classic styles have stood the test of time and are a staple in outdoor wear. Now you can shop L.L. Bean at the retailer's first Canadian location at Oakville Place! The store is filled with warm knits and soft flannels that will be perfect for fall apple picking or a brisk hike to see the changing colours of the leaves.
When you think of Abercrombie & Fitch, the brands preppy polos and denim jeans made popular in the early 2000s probably come to mind. Now the brand exudes effortless style that's full of versatile, trendy, and relaxed pieces. Abercrombie & Fitch is definitely less outdoorsy than the other brands on this list but the brand focuses on creating casual and collegiate looks that are perf for everyday wear. A&F's has a commitment to providing customers with lasting quality and exceptional comfort and that's what really makes this brand stand out.
It's no secret that the fashion industry is incredibly damaging to our earth, but tentree is on a mission to change that and is planning to become the most environmentally progressive brand on the planet. This ultra-sustainable brand serves fashion with a conscience, creating styles that will have you looking good and feel good. All items are made from sustainable materials like hemp, organic cotton, and recycled polyester — even the buttons are environmentally friendly, as they're made from coconut shells instead of plastic! In addition, everything is manufactured in socially responsible factories, plus, the brand plants 10 trees for every item sold and has a goal of planting one billion trees by 2030!
While Levi's is probably most known for its jeans and super cool denim, the brand actually has a wide range of other items and has recently expanded to include accessories as well. Levi's has the same laidback, comfortable feel as Roots does and we love how the brand manages to maintain a hint of a vintage inspo, while still feeling perfectly up to date. The quality manufacturing creates timeless, classic items that are designed to outlast the stressors of day to day wear. Like the brand tagline says, these products are meant to be lived in – not just worn.
The North Face has been known and loved by hardcore adventurers for years now, but don't let that intimidate you as the brand is suitable for everyone. Designed to survive on a mountainside, these pieces are made with great technical quality. The jackets and fleeces are sure the keep you warm during the unpredictable fall weather all the way into the thick of winter. Also, in line with the mission to preserve the outdoors, The North Face has recently re-released its most popular styles now made with sustainable materials.
For comfy and cozy wardrobe staples for men, women, and kids. Lands' End apparel and outerwear is made using high-end materials that are designed to last.
There's a reason outdoor lovers are always sporting Columbia outerwear and apparel. If you love the timeless, outdoorsy styles of Roots, Columbia is a must-shop.
Eddie Bauer has been producing designer outdoor wear for the past 100 years. For stylish pieces you'll own for years to come, like Roots, this brand is a top pick.
Although they are known for their iconic backpacks, Fjallenraven designs a range of apparel and accessories that are perfect for anyone who enjoys the outdoors. Always look on-point with flannels, parkas, vests, sweaters, pants, and many more styles that rival Roots' own designs.
Patagonia is famous for its iconic fleece sweaters and zip-ups, vests, jackets, and stylish high-end outdoor gear. Although the brand is definitely a pricier alternative to Roots, you'll have these pieces for years to come.