Regardless of where you happen to be in Toronto, chances are, there's likely to be a slew of boutiques and shops worth checking out. You most likely know that Queen West is great for fun boutiques, while Yorkville and Rosedale are the 'hoods to visit if you're looking for more high-end designers. But the truth is, there are so many other local stores and shops that you can easily miss if you don't know they're there. This is why we've curated a list of all the best clothing stores in Toronto and broke them down by the neighbourhood.
So the next time you find yourself needing to killing time in The Annex or in Rosedale, you'll know exactly what stores to hit up!
Yorkville
TNT or 'the new trend,' is an 18,000 square-foot, two-storey shopping haven in Toronto's luxe Yorkville neighbourhood where style-savvy men and women can shop the latest styles from hundreds of designers. Here you'll find racks filled with athleisure-wear and high-end pieces from designers like Alexander Wang, Isabel Marant, and Equipment, plus a covetable shoe and boot selection.
You'll feel like you stepped onto a runway at New York Fashion Week as soon as you step into 119 Corbo, a hip Yorkville designer dream closet. Here you'll find racks sporting the latest from Balenciaga, Jil Sander, The Row, Rick Owens, and Acne Studios to name a few. Plus, there's also a high-level personal shopping service, footwear, and accessories — making getting ready for the new season a breeze.
Dundas Street West
Zai Rajkotwala, the brilliant mind behind Toronto's Easy Tiger, also owns Ease, a space dedicated to fashion and carries the kind of understated and cool pieces you would expect to find on Toronto's effortlessly cool Dundas Street West. Here you'll find bold statement pieces that are anything but ordinary: picture structured bags, funky earrings, and traffic-stopping colour palettes. 
Ossington
While this Ossington gem definitely has a strong focus on bridal wear, LoversLand still carries a stunning selection of women's clothing to choose from that ranges from bohemian-style dresses and chic tops and bottoms to playful jumpsuits and intimates. You can also grab the perfect pair of heels, jewellery, and accessories at Loversland to complete your look. 
College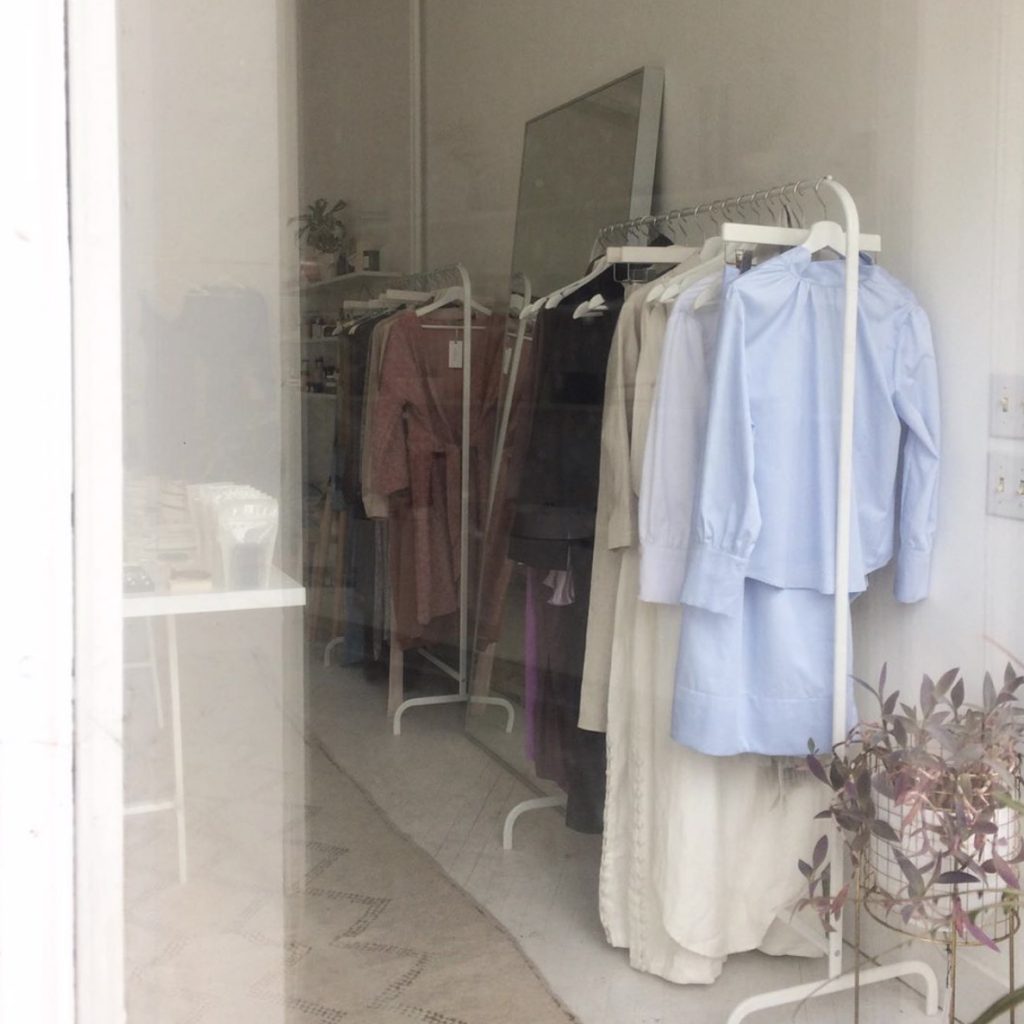 The serene space at Souvenir is airy and inviting, mimicking the curated selection of women's clothing, accessories, jewellery, and goods that fill the store. Owner Danielle Suppa highlights both Canadian and emerging designers, makers, and artists and showcases their talents in a collective, gallery-inspired setting. 
Rosedale
Augustina is a stunning Rosedale boutique is Toronto's go-to destination for womens luxury clothing and accessories. The ever-changing collection features interesting designers, rich colours, textures, and unexpected details. With a carefully curated collection, rest assured you'll always find the one-of-a-kind wardrobe staples you are looking for.
The Narwhal Boutique is one of those shops that always 'wows' us with its feminine yet slightly edgy pieces. At this Rosedale storefront, you'll find always find attention-grabbing pieces from designers like AGOLDE, Golden Goose, Mara Hoffman, Ulla Johnson, and more. 
The Junction
For those with a passion for vintage and retro-inspired pieces, you'll want to pay Black  Daffodil in the Junction a visit. A little more high-end than some of the other local shops, this is a great place to check-out if you're looking for something for a special occasion. The store prides itself on supporting indie artists and having its own in-house designs as well.
The Annex
Bathurst Street boutique Ewanika has loyal customers coming back time and time again for its pieces that are a welcoming mixture of modern, feminine, and comfortable. Designer Trish Ewanika imports an everchanging mix of elegant pieces to her storefront, including ready to wear lines and accessories that complement the season's collection.
Since opening the doors to its first store in 1989, Risque has been a neighbourhood staple. Here you'll be able to shop for all the essentials, with racks filled with tops, bottoms, outerwear, and intimates, in addition to accessories, jewellery, and shoes. But what we really love about Risque is that the shop carries both designer and local brands, so regardless of your style or budget, chances are you'll walk out the door with something that's perfect for you. 
If you're passionate about shopping sustainably, Common Sort is a consignment store where you can buy and sell casual, trendy clothing and accessories in great condition. It's a popular spot for finding contemporary, designer brands, and sometimes unique vintage pieces for cheap and in just-like-new condition.  
Queen West
The Latest Scoop is a one-stop lifestyle concept store where you can stock up on pretty pieces for you and your home, including women's fashion, home décor, accessories, furniture, stationery, giftware, and much more. This Vancouver boutique is quickly taking Toronto by storm and now has two locations in the city's downtown core.
Upon entering Gaspard, another Queen West boutique, you'll get instant Parisian vibes. Located steps away from Trinity Bellwoods Park, the quaint storefront is owned by Jennifer Halchuk and Richard Lyle, the creators of long-running Canadian label, Mercy, which is sold right here in the shop alongside other French-approved items like separates, knits, frocks, scarves, bags, and jewellery. 
Chances are, you've probably seen the stylish staff and employees doing photo shoots outside of the Queen West storefront at least once in your life, and with garments as stunning as these ones, we can't blame them. The Store On Queen carries a wide variety of designers and an impressive selection of dresses and gowns for special occasions. The store is known for having an extremely vast selection and has a heavy focus on customer service which means you'll be treated like royalty from the moment you walk in.
Queen West gem Coal Miner's Daughter specializes in Canadian clothing, jewellery, and accessory designers and makers, with many of them being from right here in Toronto. What we love about CMD, is the owner's goal of always having no less than 80% of its designs in its stores made by Canadian designers. Here you'll find pieces that are a little more laid back, with a chic Toronto vibe, not to mention you can stock up on locally-made natural skincare products, which you can leave the store feeling good about. 
Leslieville
Good Neighbour doesn't just sell awesome men and women's clothing, it also has an impressive selection of footwear, outerwear, housewares, gifts, kidswear, jewellery, accessories, and much more. So while you're looking for some new threads, you can also scoop up some new home decor while you're at it. Not only does is the shop truly a good neighbour by supporting local talent from creators from Canada and the GTA, but the store also sources goods from LA, London, and even Tokyo.