If you've been on TikTok, or generally just online lately, you've probably heard of the new latte makeup trend. The concept itself isn't really new, but now the particular makeup style has been given a name by TikTok creator Rachel Rigler refrencing a look by Tanielle Jai. She described latte makeup as warm, bronzy, milky, and effortless. AKA the perfect makeup for summer, and it can work on every skin tone! Everyone seems to be doing their own take on the look – even Hailey Bieber. 
Here's a step-by-step guide on how to achieve the viral latte makeup look
Step One: Skin Prep
The first thing you're going to want to do to achieve the J.Lo-esque makeup look is to apply a hydrating and glowy base before putting on any other makeup.
Step Two: Foundation or Tinted Moisturizer
Apply a lightweight foundation or a tinted moisturizer that provides just the right amount of coverage so you have a natural-looking finish. In Rachel's TikTok, she gives a tip to avoid putting any on the nose to look like you're wearing less makeup.
Step Three: Brown Smokey Eye
For the smokey eye, Rachel started by applying a liquid brown shadow to her lid, then blending a warmer brown into the crease, then applying a shimmery bronze shadow onto the inner lid into the crease. There isn't really a right or wrong way to do this, as long as you're left with a brown smokey eye with some shimmer!
Step Four: Liquid Bronzer
Apply a liquid bronzer that works best for your skin tone (the warmer the better in this case) and apply as you would a contour. Temples, cheekbones, and jawline.
Step Five: Concealer
Apply concealer as needed on the high points of the face and under the eyes, ensuring it isn't overly brightening. Then blend out with a wet beauty sponge for a seamless look.
Step Six: Powder Bronzer
Apply a powder bronzer on top of your contour as well as anywhere you didn't apply concealer, including the nose. This along with the eyes is what really pulls the look together!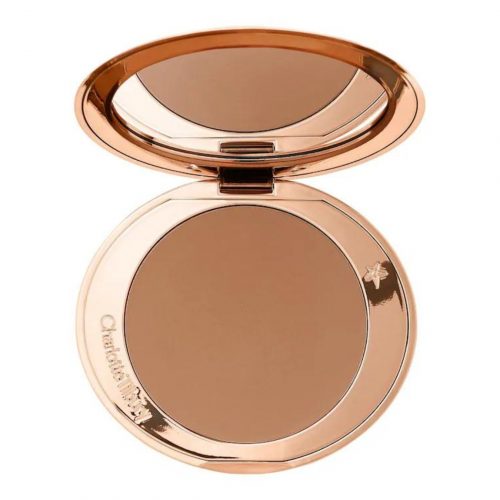 Step Seven: Highlight
We didn't notice Rachel add any highlight, but we personally love this look with a bit of extra glow! Apply a neutral or bronzy highlight to the high points of your cheeks.
Step Seven: Finishing the eyes
Fuse out the bottom lash line with a brown shadow generously, then take a darker brown on an angled brush and apply on the outer part of the upper lash line. Rachel also opted to add some bronzer on a smaller bronzing brush and added a splash onto the upper lid bringing it up and out. To finish it off you can add some brown liner if you wish and then a light layer of mascara!
Step Nine: Lips
Apply a nude lip liner to your lips and finish it off with a bronzy or clear gloss!
Step Ten: Dewy Setting Spray
Last but not least, we would add a dewy setting spray to melt the makeup together in a seamless way, leaving an overall hydrated look!
Articles You May Also Be Interested In:
Pool-Proof Makeup To Shop
12 Must-Have Summer Beauty Products
9 Trendy Swimsuits To Shop
12 Summer Staples Your Closet Needs
9 Of The Best Sandals To Add To Your Summer Shoe Collection
8 Easy Hairstyles That Are Perfect For Summer
8 Of The Best Perfumes For Summer 2023