Valentine's Day is as good of an excuse as any to drop dollars on a pricy date night. It's probably the dreariest time of the year and it kicks off a long weekend; you deserve to celebrate in style. Plus, if you've managed to maintain a relationship in the current dating culture, you should probably mark that monumental achievement (seriously, congrats). Making things easy, Toronto is full of splurge-worthy spots to dent the credit card(s) – especially if you're celebrating the 'Hallmark holiday' with a significant other or a potential new SO.
Here are 11 spots to splurge at this Valentine's Day in Toronto.
There's a distinctively special, almost regal (minus the rigidness) feel about a meal at Louix Louis. Located on the 31st floor of Toronto's luxurious St. Regis Hotel, the stylishly designed spot (come for the art and décor as well as the food) offers indulgent French and American-inspired dishes. On February 14 and 15, Louix Louis will feature a four-course prix-fixe menu for $145 per person. If you have a little too much fun celebrating, you could – and definitely should – book a room at the hotel (so you may want to pack a bathing suit for a morning swim just in case).
Set the shamelessly stereotypical Valentine's Day mood with oysters, flowing champagne, and a sexily "secret" hot spot at Coffee Oysters Champagne (COC). While the said secret is out about this King West restaurant and champagne bar, if you have (somehow) yet to check it out, let's just say there's more than meets the eye at this stylish spot. What we can tell you is that it houses the largest selection of sparkling wine in the city, an oyster selection that changes daily, and a menu full of comforting French classics.
If you and your SO or date have a soft spot for steak and upscale comfort food (as in, a dinner for two will set you back at least $300.00) hit longtime "special occasion" institution Harbour 60 for a fabulously indulgent meal – paired with some of the city's best selection of wine – that won't soon be forgotten. Naturally, the spot features an extensive, well-curated wine list to complement the pricy cuts of steak and satisfying sides, so keep that in mind when budgeting for the night (you may as well go all out).
Pamper yourselves with a spa day – or go all out with a spa weekend – at the Spa My Blend By Clarins at the always-classy Ritz-Carlton hotel. The best way to revitalize winter skin and relax in the process, the spa offers a full range of services that include custom facials and massages from around the world. With all treatments of 60 minutes or more, guests receive a spa day pass which grants all-day access to the water therapies, eucalyptus steam room, relaxation lounges, and the fitness centre.
Treat yourselves to an elevated meal with a side of style at Café Boulud in the Four Seasons Hotel. Perfect for a dark depths-of-winter evening, Chef Daniel Boulud's French Brasserie will offer comforting and sophisticated dishes from a special 5-course prix-fixe Valentine's Day menu this weekend. This includes menu items like savoury crowd-pleasers like Truffle Straciatelle and Mushroom Gnocchi, along with blue fin tuna and special house-made desserts. End the evening with a nightcap downstairs at the always-bustling (and character-filled) dbar.
For those unafraid to venture north of Bloor, new(ish) Summerhill fine dining spot Sash has been generating a growing buzz with the city's moving and shaking set (i.e. the ones who can afford to eat there). For those in the dark, the restaurant is the project of Chef Sash Simpson, who ran the kitchen at Mark McEwan's now-closed North 44 for almost 20 years. Dishes like the creamy burrata, lobster tacos, and bison tenderloin, grace the white tablecloth-covered tables at this inevitably wallet-denting restaurant.
If you have a soft spot for elevated Mediterranean fare and fine wine, check out the recently opened Petros82 in the sleek Hotel X Toronto (where you may want to also book a room). For the month of February, the spot is offering a three-course Romance Menu for $200 per couple that features tasty eats like baked feta, Cornish game hen, and black cod. Plus, it comes complete with special wine pairings by the restaurant's sommelier.
Need a little self care? Head to Majesty's Pleasure either in Yorkville or on King Street for the ultimate in indulgence. Start off with a coffee or cocktail, and get comfy. Choose from a variety of beauty services including a hair revamp (cut and colour is avail at Yorkville only), a facial, mani/pedi with fun nail art, or a blowout. Whatever you opt for, it'll be the best of the best and you'll have the best day treating yourself!
Swanky financial district seafood spot The Chase makes a solid Valentine's Day option in Toronto for those looking to indulge in pricey – but well worth it – oysters, fish, scallops, meats, and sides that cut no corners in the detail department. This year, The Chase is offering a 5-course Valentine's Day menu for $145 per guest that includes a choice of beloved menu items like scallops, crudo, lobster and lovage raviolo, bison, and the dry aged beef.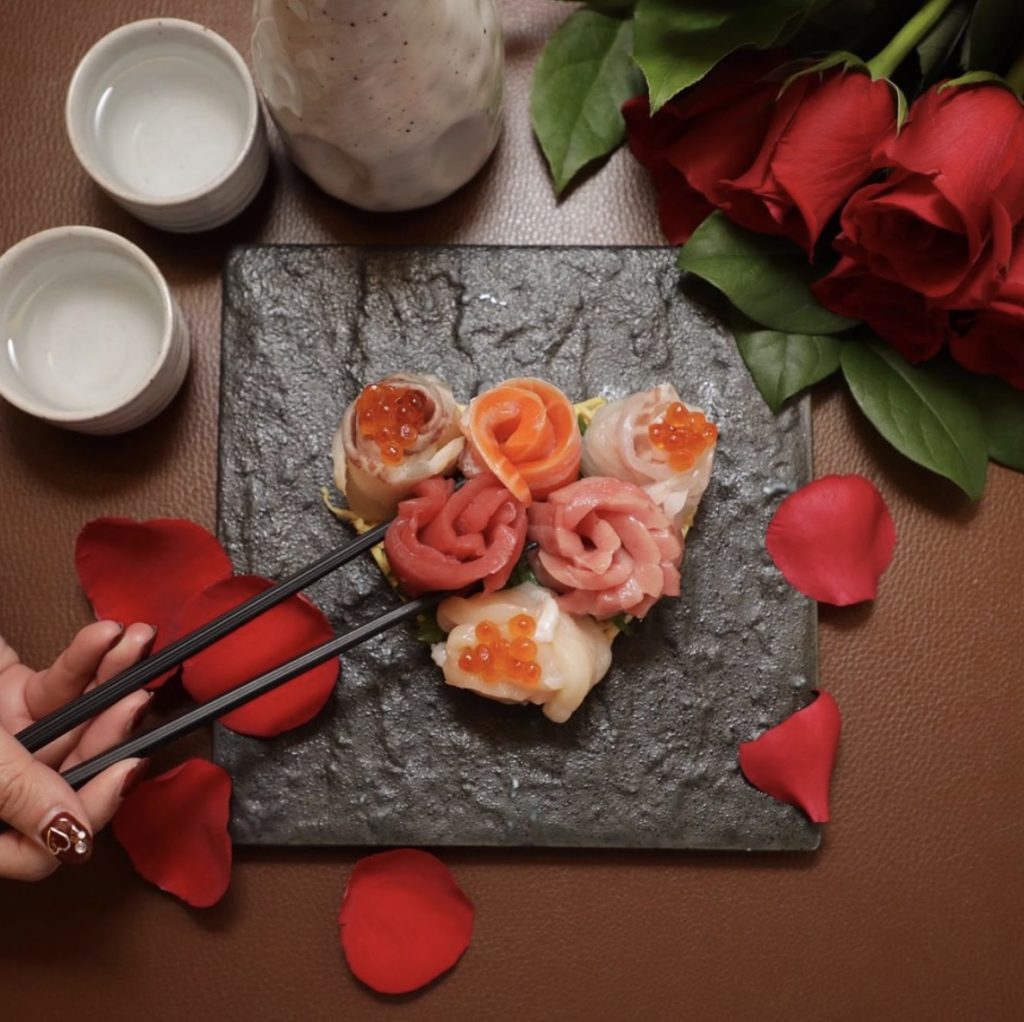 Head to JaBistro on Richmond with your boo for a Valentine's Day in Toronto to remember. The Japanese restaurant's V-Day weekend special includes a blooming Sashimi Bouquet and delicate Matcha Tiramisu, that's available from February 14 to 16. These sashimi flowers will be the most delicious bouquet you'll ever have.
If you and your Valentine are foodies, you'll want to venture over to Alo Bar Yorkville. This spot that's more than worth the trip and it's the perfect place to splurge on great food. Tuck into dishes like ricotta gnudi, 14 oz. veal chop, and dover sole, to name a few. With quality eats and a superb wine list, what's not to love?
Articles You May Also Be Interested In:
IKEA Is Hosting Cheap Romantic Dinners For Valentine's Day
10 Valentine's Day Gifts For All The Men In Your Life
Single? No Prob — Here Are 10 Friend Dates To Go On This V-Day
10 Of The Best Gifts To Buy Your Boo This Valentine's Day
10 Of Toronto's Most Romantic Restaurants To Take Your SO