If you're lucky enough to escape the freezing cold this winter to a place where the grass is green, the palm trees sway in the humid breeze, and the water is warm, then there's a good chance you need to stock up on new swimwear. Dipping in and out of the pool all summer might've taken a toll on your favourite bikini, and now you're panicking to find one that fits and feels the same. Luckily, we rounded up 11 places to buy bathing suits online for a cold weather getaway that champion comfort, quality, size inclusivity, and style.
Read on to find out where you can pick up almost two weeks worth of vacay-ready swimwear that are just a few clicks away.
REVOLVE has a wide variety of swimsuits and beach fashion pieces from different brands for you to shop right on its website. The shop always carries the latest trendy styles, so you can trust you'll be looking chic while laying out on the beach.
From ocean blue turquoise to sandy beige, Saltwater Collective handcrafts flawless swimwear basics. Sewn by local Toronto seamstresses, all Saltwater one pieces and bikinis are made out of sustainable fabrics like econyl yarn which is spun from wasted nylon fabric. There's nothing better than wearing something that's better for the water while you're swimming in it, right?  
Also made in Toronto, Unika swimsuits are comprised of econyl yarn too. The brand was founded by Brazilian native, Betsy Campos, who was inspired by her heritage and how every beach bum's swimwear reflected their style. Through Unika, Campos aims to empower women to recognize their individuality and feel confident in a swimsuit, which is now more possible with an in-store fitting at her Yorkville boutique.
To live "unapologetically free" is Knix's motto, and its body-loving bathing suits allow you to do just that. The creators of seamless bras and functional underwear have now expanded into designing swimwear that fits cups sizes A to G and pants sizes 2 to 22. Plus, they're wire and chafe free. 
Incase you weren't aware Aritzia now sells swimwear! Like the rest of Artizia's inventory, its swimwear collection is full of elevated basics that will never go out of style.
Go ahead and conjure up a daydream of a countryside villa in the south of Italy, where the paintings are as plentiful as the spritzes and empty lawn chairs in the steamy summer heat. What would you want to be wearing? We'll answer that for you and suggest an artfully designed one piece by Cult Gaia. It'll live in your wardrobe forever. 
Founded by South African model and Victoria's Secret Angel Candice Swanepoel, Tropic of C is a swimwear line that celebrates the female form and a life spent at the beach. Right down to the bamboo tags and biodegradable garment bags, it's a true eco-brand. Tropic of C also uses a bioplastic derived from tree pulp to make the hygiene liners for the inside of bathing suit bottoms, which are completely compostable. Another one, for the planet.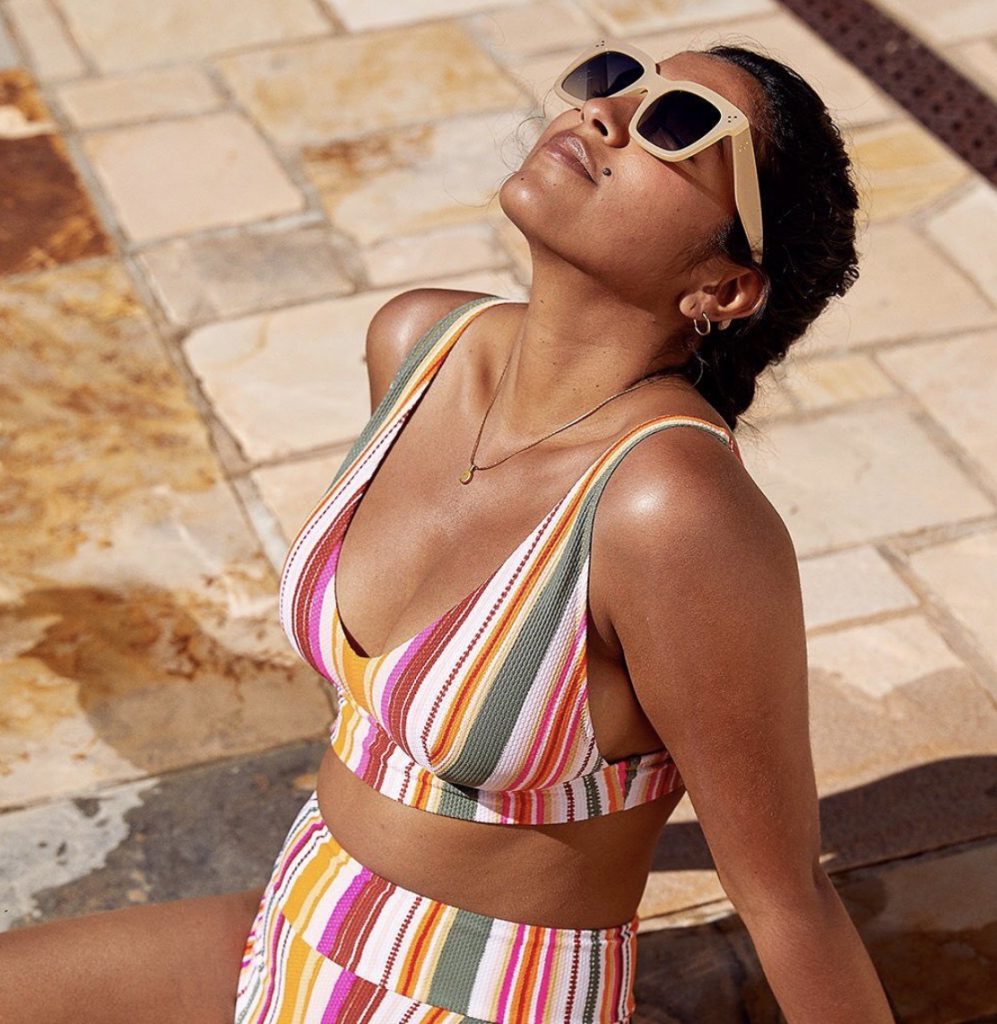 Just like its clothing, Aerie swimwear is all about making women feel good, inside and out. And with un-retouched models pictured in every style on their website, that's exactly what the brand has accomplished. Its bathing suits are just as cute as its intimates and pyjamas, and they're all available in cup sizes AA to DDD.
Everlane is known for its sustainability efforts by partnering with ethical factories, using fine materials for its pieces, and creating timeless designs. Its swimsuit collection is no different! At Everlane you can shop a variety of staple swimwear pieces that are built to last, so you can take them with you on many vacations to come.
Wondering where you've seen a Hunza.G swimsuit before? You might recognize the iconic Hunza dress that Julia Roberts wears in the most classic of rom-coms, Pretty Woman. Today, London-made Hunza.G bikinis are literally everywhere, and they're the absolute comfiest. Even Hailey Beiber's a fan.
Youswim might make the most comfortable swimsuits ever, and we know that's a bold statement to make. Though it's possible, because the brands suits adapt to fit your body's natural state of flux. If you're a size 2 to 14, Youswim has got you covered – its suits are seven sizes in one. These suits are also ethically woven, dyed, cut, and sewn in England using European-sourced nylon and elastane.
Modcloth's bathing suits come in a full range of sizes up to a 34. The brand use of original patterns and vivid fabrics are seen in high-waisted and vintage-inspired designs that aim to represent all different shapes and styles. As they like to say, every outfit (or swimsuit) is an opportunity to express yourself, and there's no way you can't in a piece of Modcloth swimwear.  
If you're looking for a suit with a little extra coverage, Left On Friday's Italian-made Smoothing Dream Fabric is just what you need in your life. You can count on it to be compressive when wet and dry, hiding the appearance of cellulite and leaving a buttery feeling on the skin. Its snag resistant too because as LOF puts it, sometimes a girl has to sit on the pool deck – right?
Summersalt took over 1.5 million body measurements from 10,000 women to inform how its swimsuits fit. Now, if that isn't a commitment to making every woman feel confident in their own skin while wearing one of the brands bathing suits, we don't know what is. Summersalt's brightly coloured fabrics and chic patterns make its swimwear perfect for the modern nomad who wants to look just as fashionable in her skivvies as she does on the streets. 
Sometimes there's nothing worse than finding the right sizing online, especially in terms of swimsuits. Hunza G is here to the rescue with its 80s-style crinkle-design fabrics that make its pieces one-size-fits-most! Seriously though, it's like sisterhood of the travelling swimsuits.
Articles You May Also Be Interested In:
What Knix's All Inclusive Swimwear Line Looks Like On 5 Different Body Types
8 Swimsuit Trends That Are So Hot This Summer
SD Test: My Experience Getting A Custom Swimsuit At Unika Swim
10 Cute Swimsuits Under $50 To Make A Splash With Over Summer
The Best Places To Buy Affordable Swimwear In Toronto