For those of you who don't already know, Le Nordik is probably one of the greatest spa franchises in all of Canada. It's not your typical relaxation retreat, to say the least.
Le Nordik is an indoor and outdoor oasis, consisting of numerous hot, warm, cold, and salt-water pools, steam rooms, saunas, outdoor and indoor bars, and restaurants. They also offer luxe spa services like massages, body wraps, and treatments. The best part is, you can stay there all day if you want to, for no extra fees.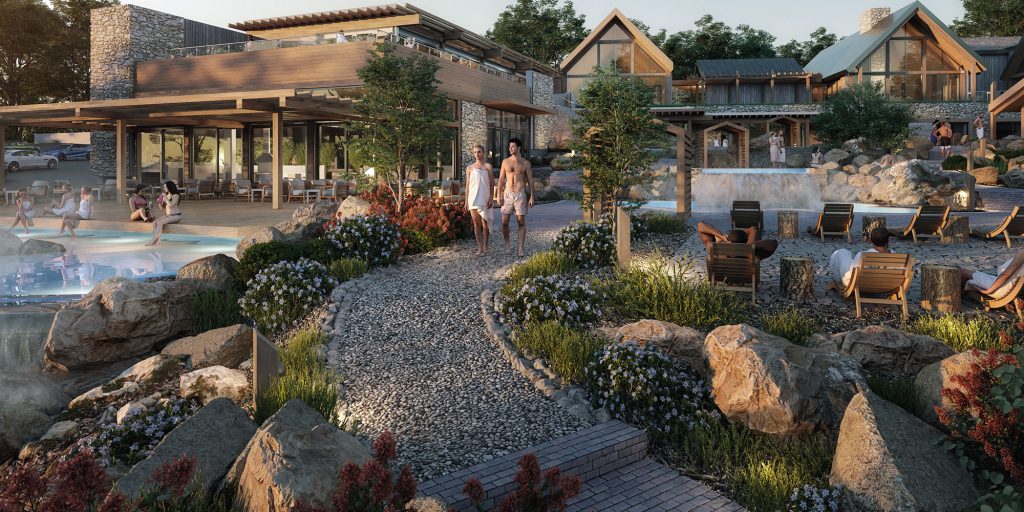 Originally, as its French name suggests, Le Nordik, AKA Groupe-Nordik, started out in Quebec. They've slowly but surely been expanding to other parts of the country, and we're so excited to share with you that there's going to be a massive new Le Nordik spa opening in the fall of 2020, just under an hour away from Toronto in Whitby.
Here's everything you need to know about the new Le Nordik spa opening just under an hour away from Toronto!
According to the company's website, construction on the Spa began October 2019, and it Will Be Opening In Whitby, Ontario in the fall of 2020.
Groupe-Nordik, understands that having just gone through such a trying winter, waiting another couple of seasons before gaining access to such a luxurious and well-deserved spa retreat is going to be difficult. But the good news is, they've decided to give us all a sneak peek of what we have to look forward to.
The Spa will be able to accommodate 700 guests.
To put that into perspective, that is about the size of eight football fields — impressive, we know. It also means that their capacity is also quite flexible. In a day, they may see about 1,100 customers, without overcrowding the space.
The Spa Is Putting The Already Existing Nature On-Site To Good Use
As Le Nordik will be located in Cullen Central Park, they've decided to build around the trees and shrubbery, to add to the nature element of the spa that is both visually pleasing as it is environmentally conscious.
Guests Will Have Access To eight Different Dry And Steam Saunas.
Seven of the eight saunas are more on the quiet, private side, while one has more of a community-style bathhouse feel.
Aside From The More Exciting Areas Of The Spa, There Will Also Be A Designated Relaxation Area
It is simply a more social area of the spa that's filled with a line-up of comfortable lawn chairs, outdoor mattresses, hammocks, and even a fire pit. Basically it's the perfect place to kick back, unwind, and enjoy a cocktail.
The Most Popular Treatment At Le Nordik, Besides The Thermal Experience, Are The Float Tanks
This is also known as The Kalla Treatment. There is an underground and indoor lit salt water pool where guests quietly float around. This Epsom salt aqua-therapy treatment promotes de-stressing, healing, and stimulating creativity.
One Of The Most Impressive Features Of The Spa Is The Outdoor Waterfall
In the thermal pool area, there is a larger cold pool, with a massive waterfall that guests can swim alongside to cool off. According to the spa, in order to gain the maximum benefits of the thermal pools, guests are strongly encouraged to alternate between the warm and cold pools numerous times throughout their visit. We're in!
Articles You May Be Interested In:
Take A Peek Inside Canada's First Guerlain Spa At Hotel X Toronto
The Largest Spa In North America Is Just 4.5 Hours Away From Toronto
I Tried Getting Injectables At The Beauty Clinic By Shoppers — Here's How It Went
10 Of The Best Hidden Gem Places To Get A Facial In Toronto
7 Spas That Are Just A Road Trip Away From Toronto